Pay later
Pay on the day of departure to the staff by cash or major credit cards.

Best price
We offer you the cheapest fast boat providers by comparing prices.

Free transport
We offer free transportation from the appointed pick-up and drop-off areas.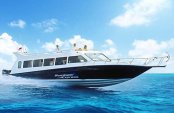 Fastboatgili.com is a recommended online booking agent for fast boat tickets to Gili Trawangan, Gili Air, Gili Meno, Lombok, Nusa Lembongan and Nusa Penida. Since the number of fast boat companies increased in Bali it become more difficult to compare fair rates and good departure times. Select you trip and a confirmation will be send directly to your email. Use the search box to find the actual best offers, boat schedules and pick-up information.
Open tickets & Island Hopper tickets are requested here.
If you have any questions don't hesitate to contact us.
Promo Seats Availability
If your booking is last minute or in a hollidays periode, a lot of the fast boats can be already fully booked. Our website shows the seat availability controlled by the different fast boat companies. If you cannot find any availablity on our website then these boats can be fully booked. To check a good alternative:
Please contact or WhatsApp: +62 852 3795 4309