Pay later
Pay on the day of departure to the staff by cash or major credit cards.

Best price
We offer you the cheapest fast boat providers by comparing prices.

Transport
We offer transportation from the appointed pick-up and drop-off or hotel areas.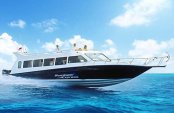 Fastboatgili.com is a recommended online booking agent for fast boat tickets to Gili Trawangan, Gili Air, Gili Meno, Lombok, Nusa Lembongan and Nusa Penida. Since the number of fast boat companies has increased in Bali it has become more difficult to compare fair rates and good departure times. Select a trip and a confirmation will be sent directly to your email. Use the search box to find the actual best offers, boat schedules, and pick-up information.
Open tickets & Island Hopper tickets are requested here.
Don't hesitate to contact us or visit our FAQ new normal.
Fast Boat Departure Points for Gili islands/Lombok:
Padangbai: Padangbai Port (Pelabuhan Padangbai)
Lombok: Bangsal Port (Pelabuhan Bangsal)
Gili Trawangan: Gili Trawangan Port (Pelabuhan Gili Trawangan)
Gili Air: Gili Air Port (Pelabuhan Gili Air)
Gili Meno: Gili Meno Port (Pelabuhan Gili Meno)
Nusa Penida: Nusa Penida Port (Pelabuhan Nusa Penida)
Fast Boat Departure Points for Nusa Lembongan/Nusa Penida:
Sanur: Sanur Port (Pelabuhan Sanur)
Nusa Lembongan: Nusa Lembongan Port (Pelabuhan Nusa Lembongan)
Nusa Penida: Nusa Penida Port (Pelabuhan Nusa Penida)
Covid-19 requirements Gili Islands and Lombok from Bali valid per 20 July 2022
Age 17+ Years: Booster (3 vaccinations)
Age 6-17 Years: 2 vaccinations
Age below 6 Years: Free to travel with a vaccinated adult
Rapid antigen (valid 1 x 24 hours) will be needed if the above requirements do not meet.
The rapid test is available at Padangbai port at IDR 100.000/person.
A non-vaccinated traveler must show Doctor's recommendation letter with PCR Test (valid 3 x 24 hours)
Please contact or WhatsApp: +62 852 3795 4309 for more information.
Because of the COVID-19 pandemic, a lot of fast boat operators have temporarily suspended their free hotel transport service.
Fastboatgili.com offers you a transport service during the booking for an additional fee.